Canadian Cerebral Palsy Sports Association recognizes Gary Vander Vies for his outstanding volunteer efforts to promote and grow the sport of Boccia
Published on: November 22, 2018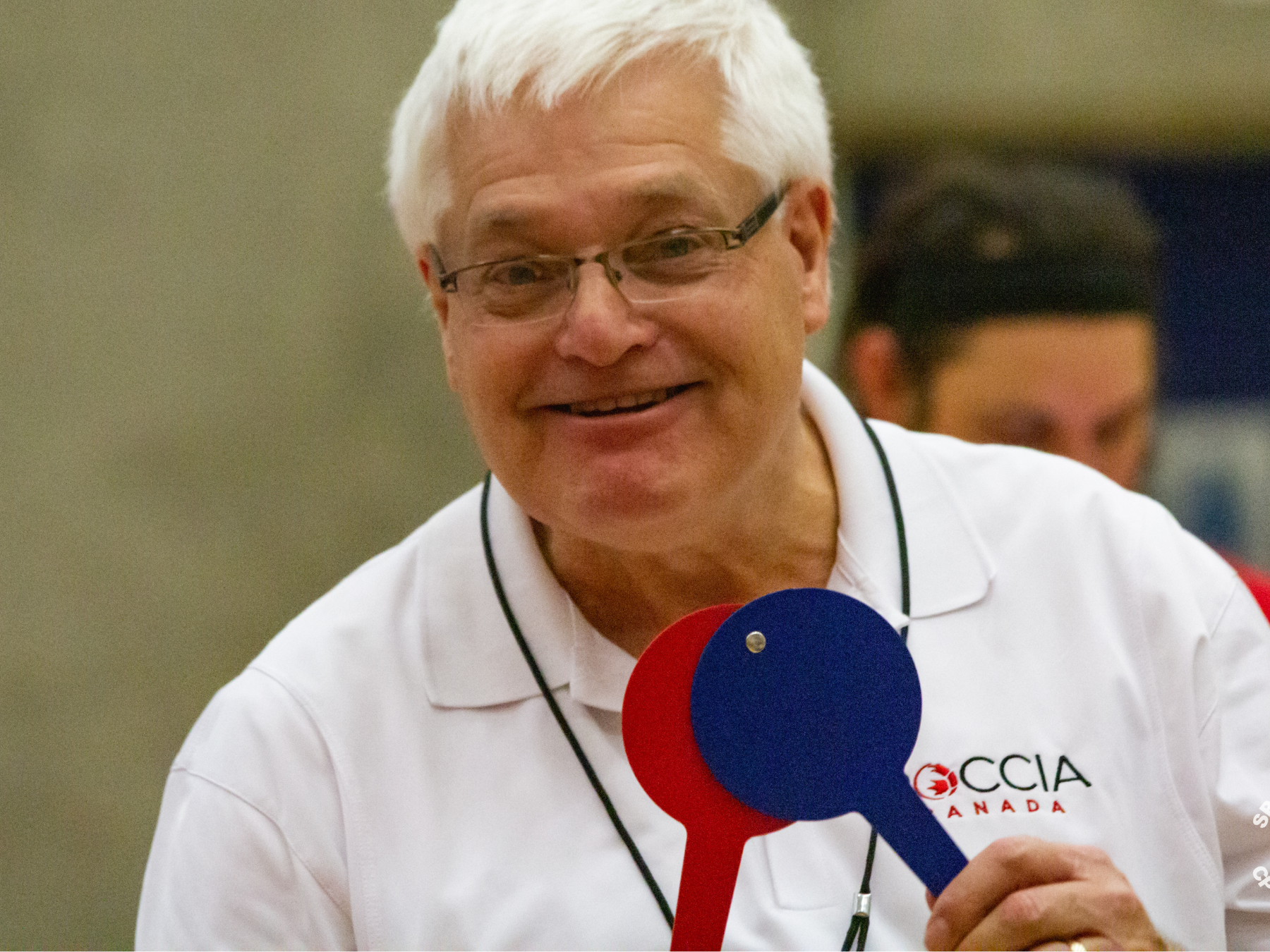 Ottawa, ON (November 20, 2018) – The Canadian Cerebral Palsy Sports Association (CCPSA) is pleased to announce that long-time boccia volunteer, Gary Vander Vies, is the newest member of the CCPSA's Hall of Fame. 
Established in 2005, the CCPSA Hall of Fame recognizes and honours CCPSA athletes, coaches, officials, builders, and teams who have had extraordinary achievements in their sport, in Canada or Internationally.
Inductees in the Officials Category have demonstrated outstanding leadership, extraordinary skill and a commitment in the performance of duties. In addition, they have contributed to the development and advancement of their sport locally, Provincially, Nationally and/or Internationally.
"Gary's induction into the CCPSA Hall of Fame is well earned," says Sharon Martin, President, CCPSA. "His integrity and his commitment to fair play at all levels of competition is well known.  Gary is a driving force behind the sport of boccia in Canada and we have been so very fortunate to have a volunteer of his calibre leading this sport."
Gary and his son, Josh, were introduced to boccia in 1996 by the Pathways Health Centre for Children and Youth in Sarnia, Ontario while they were members of the local club, the Sarnia Red Hots (now Sports for the Disabled – Lambton) and have been enthusiasts on the boccia scene ever since. 
In his twenty plus years (and counting!), Gary has held various positions to support boccia, including sports assistant for Josh, referee, head referee, at home and at International Boccia competitions, and technical delegate at Provincial and National competitions. Throughout his time, Gary has also played an instrumental role in the development and training of referees, and introduced a number of ideas and concepts that are widely used in boccia today, at home and Internationally.
"Thank you so much to the Nominating Committee for this award," says Gary. "My family and I have had so many amazing opportunities through boccia and we are extremely grateful for being introduced to the sport. To be recognized by the CCPSA Hall of Fame is a great honour and something that I value very much. I thoroughly enjoy the sport of boccia and am excited that my involvement in boccia has had some benefit in further evolving the game here in Canada, and abroad, and is creating new opportunities for an amazing group of athletes."
Gary is currently Chair of Boccia International Sports Federation (BISFed) Competition and Rules Committee. Gary also serves as Chair, Boccia Canada Council and is a member of the Board of Directors for the CCPSA. His travels in these various roles have taken him to Australia, China, Mexico, Portugal, South Africa, the United Kingdom, the USA and throughout much of Canada.
---
About the Canadian Cerebral Palsy Sports Association
We collaborate with partners to increase the participation of Canadians with cerebral palsy and related disabilities in sport and physical activity, while leading, developing and growing boccia from grassroots, to producing World and Paralympic Champions.
---
Media Contact
Jennifer Larson
Program Manager, CCPSA
Email: jlarson@bocciacanada.ca
Phone Number: 613-890-5101