Herb Torrance Inducted into CCPSA Hall of Fame – Recognized for Decades of Success Coaching Boccia
Published on: November 13, 2023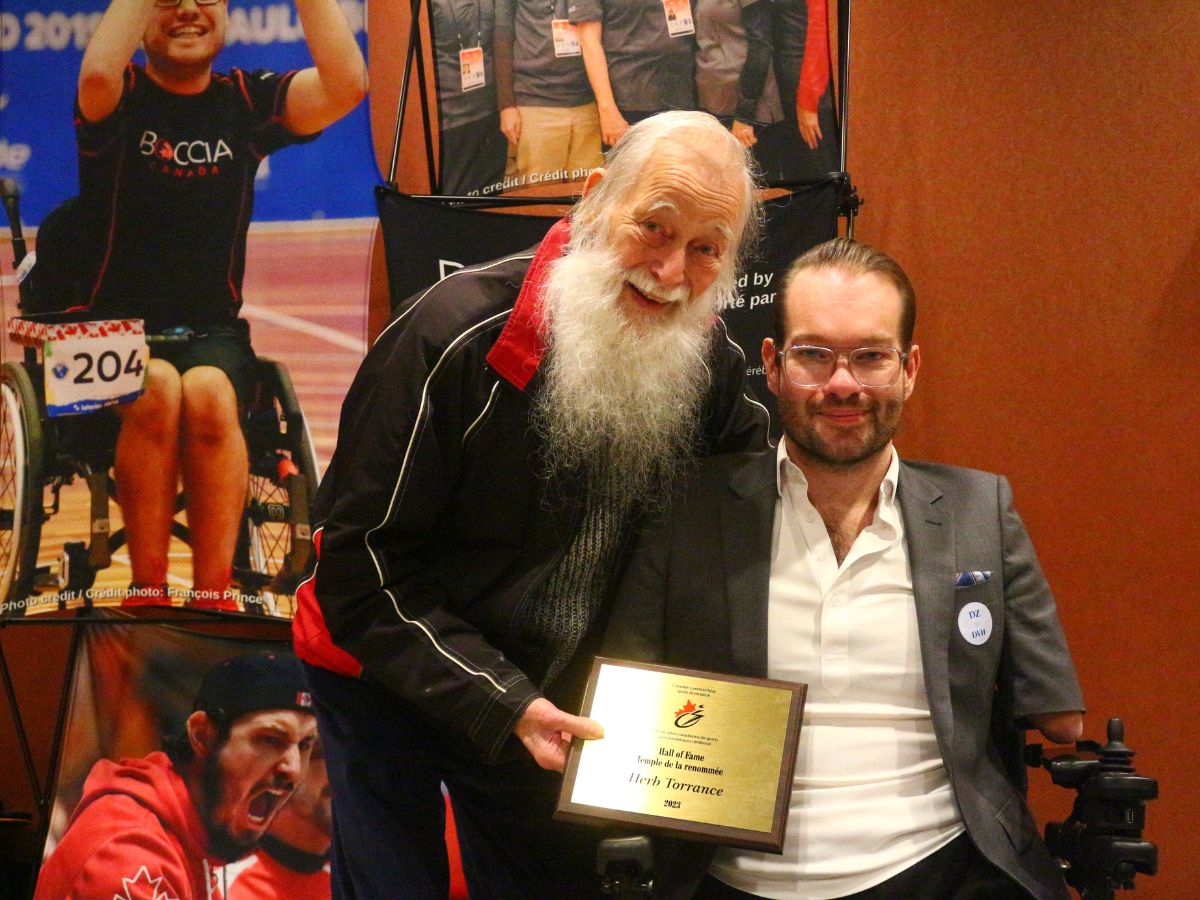 Former Coach, Herb Torrance, pictured accepting Hall of Fame Award from Paralympian and retired athlete, Josh Vander Vies
Ottawa, ON (November 13, 2023) – The Canadian Cerebral Palsy Sports Association (CCPSA) is pleased to announce that Herb Torrance is the newest member inducted into the CCPSA Hall of Fame in the Officials/Coaches Category.
Herb played a pivotal role in boccia's golden era of the BC3 Pair of Alison Kabush, Monica Martino, and Paul Gauthier during the 1990s and early 2000s. This surge of performance out of British Columbia culminated along with Herb's guidance as assistant Canadian coach at the 2000 Sydney Paralympic Games, where that BC3 Pair won bronze.
Transitioning from Canadian assistant coach to Head Coach in 2003, Herb led the team to success at the 2004 Paralympic Games, where the BC3's again took bronze, and Paul Gauthier winning individual gold. He then coached BC4 players for several years and his skill was on display. Bold technical recommendations and Herb's relentless confidence propelled the BC4 Pair of Josh Vander Vies and Marco Dispaltro to bronze at the London 2012 Paralympics.
Outside of coaching Herb was dedicated to boccia as an experienced referee and longtime steward of the national rankings.
"Herb was among the early pioneers who helped establish and promote boccia in British Columbia and across Canada," noted Josh Vander Vies, Paralympian and previously coached by Herb.  "His leadership anchored innovations like mental training before it was widespread, disciplined tracking of shots to better understand tactics, and a powerful understanding of how to build a high-performance environment, moment to moment."
"It's an honour to be inducted into the CCPSA Hall of Fame," acknowledged Torrance. In typical humble fashion he noted, "I devoted many hours in training and competition, but it's really the athletes' own dedication, work ethic, and performance that deserves the accolades. During my time coaching boccia, I was blessed to work with several world class boccia athletes who went on to accomplish great results at the international level."
The CCPSA Hall of Fame recognizes, celebrates, and honours individuals who have made an outstanding contribution to the development and advancement of sport for athletes with a disability.
Further, the Hall of Fame was established in 2005, and recognizes, honours, and showcases CCPSA athletes, coaches, officials, builders, and teams that have had a profound impact on the organization, achieving success in their sport nationally and/or internationally.
---
About the Canadian Cerebral Palsy Sports Association
We lead, develop and grow boccia from grassroots to producing World Champions, and we collaborate with partners to increase participation of Canadians with physical disabilities in sport.
---
Media Contact
Holly Janna
Communications Lead and National Team Coordinator, CCPSA
Email: [email protected]
Phone Number: 613-748-1430 x3 | Cell: 514-944-5193