Kabush Para Athlete Fund Awarded to Three Deserving Candidates in its First Year
Published on: September 29, 2022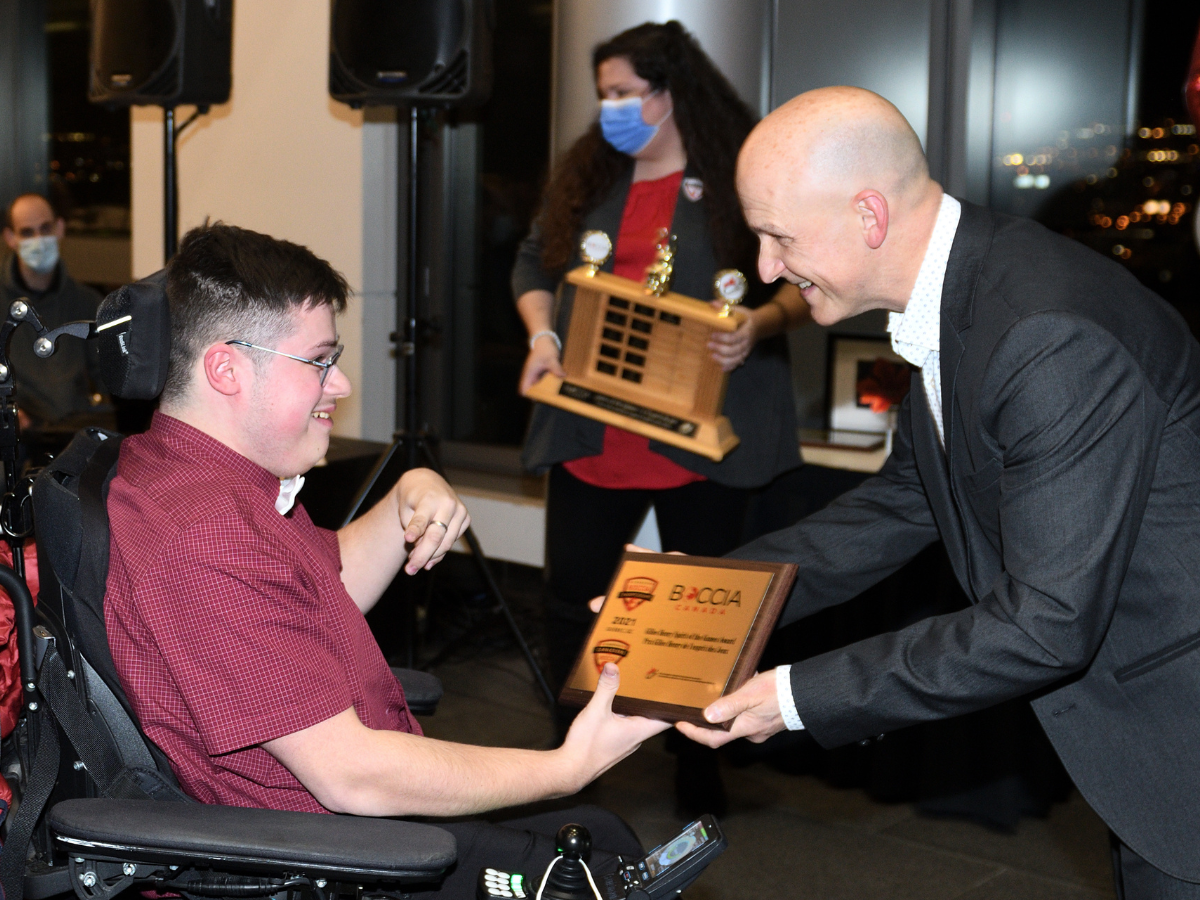 Olivier Roy, one of the recipients of the Kabush Para Athlete Fund pictured (left), accepting the Gilles Henry Spirit of the Games Award at the 2021 Canadian Boccia Championships
Ottawa, ON (September 29, 2022) – Three recipients of the  Kabush Para Athlete Fund proudly accepted their $1,000 bursary, which included Alexandre Raymond (Sorel-Tracy, QC), Hudson Booth (South River, ON), and Olivier Roy (Québec City, QC). The bursary was established in 2022 by Ken and Debbie Kabush (Surrey, BC) in partnership with the Canadian Cerebral Palsy Sports Association (CCPSA) and is intended to provide support to up-and-coming Canadian athletes or teams in para sport to offset costs related to registration fees, facility rentals, training, equipment, coaching, competition, and travel.   Ken and Debbie's daughter Alison was a stalwart in boccia for two decades. Alison began her involvement in 1989 through the Variety Child Development Center in Vancouver. She went on from there to be selected to the British Columbia Provincial Boccia Team, followed by the Canadian National Boccia Team, and participated in three Paralympic Games (Sydney 2000, Athens 2004, Beijing 2008), capturing two bronze medals in BC3 Pairs with teammates including Paul Gauthier. Alison continues today to be a big advocate for parasport and boccia.   Raymond reflected on what this grant means to him. "I was very surprised to learn that I was a recipient of the Kabush Para Athlete Fund and also really happy of course. This money will help me pay for tournaments farther away from home that I normally cannot make. I was selected because I am a very motivated, hardworking, and determined athlete."   "I find it's a pretty big deal to be chosen for this grant, which I'm very happy about," explained Booth. "I will be using the grant to travel to my track practices because I live three hours away from my track club. The grant will also be used for my club membership. I feel that I deserve the money because I'm keeping up with my training, always trying to get faster, and putting in the hard work."   Roy agreed, "I'm very lucky to have been chosen. The grant will help me pay for some of my travel and registration costs for upcoming competitions. Also, I will be able to purchase the necessary equipment for future international competitions. The fund will be put to good use because I am continuing my studies full time and I want to excel as much as possible in boccia as well. So, I have to combine my studies and my training in order to succeed. The Kabush Para Athlete Fund will motivate me to become a better athlete and help me be equipped for competitions!"   Executive Director of CCPSA, Peter Leyser was delighted to award the grant to three deserving individuals: "This was the first year offering this opportunity to the para sport community and we were thrilled with the amount of interest it garnered, far greater than we anticipated. Every application was deserving of the grant, and we wish them all well on their athletic journey. Those chosen for 2022 certainly fit the criteria of up-and-coming athletes, and we recognize these grants will assist with training, equipment, competition, and travel expenses. A special thank you to the Kabush family for their extremely generous gesture in establishing this fund and partnering with the CCPSA to deliver."   Find out more about the Kabush Para Athlete Fund here.
---
About the Canadian Cerebral Palsy Sports Association
We lead, develop and grow boccia from grassroots to producing World Champions, and we collaborate with partners to increase participation of Canadians with physical disabilities in sport.
---
Media Contact
Holly Janna
Communications Lead and National Team Coordinator, CCPSA
Email: hjanna@ccpsa.ca
Phone Number: 613-748-1430 x3 | Cell: 514-944-5193