Update to Boccia Canada COVID Protocols
Published on: July 26, 2023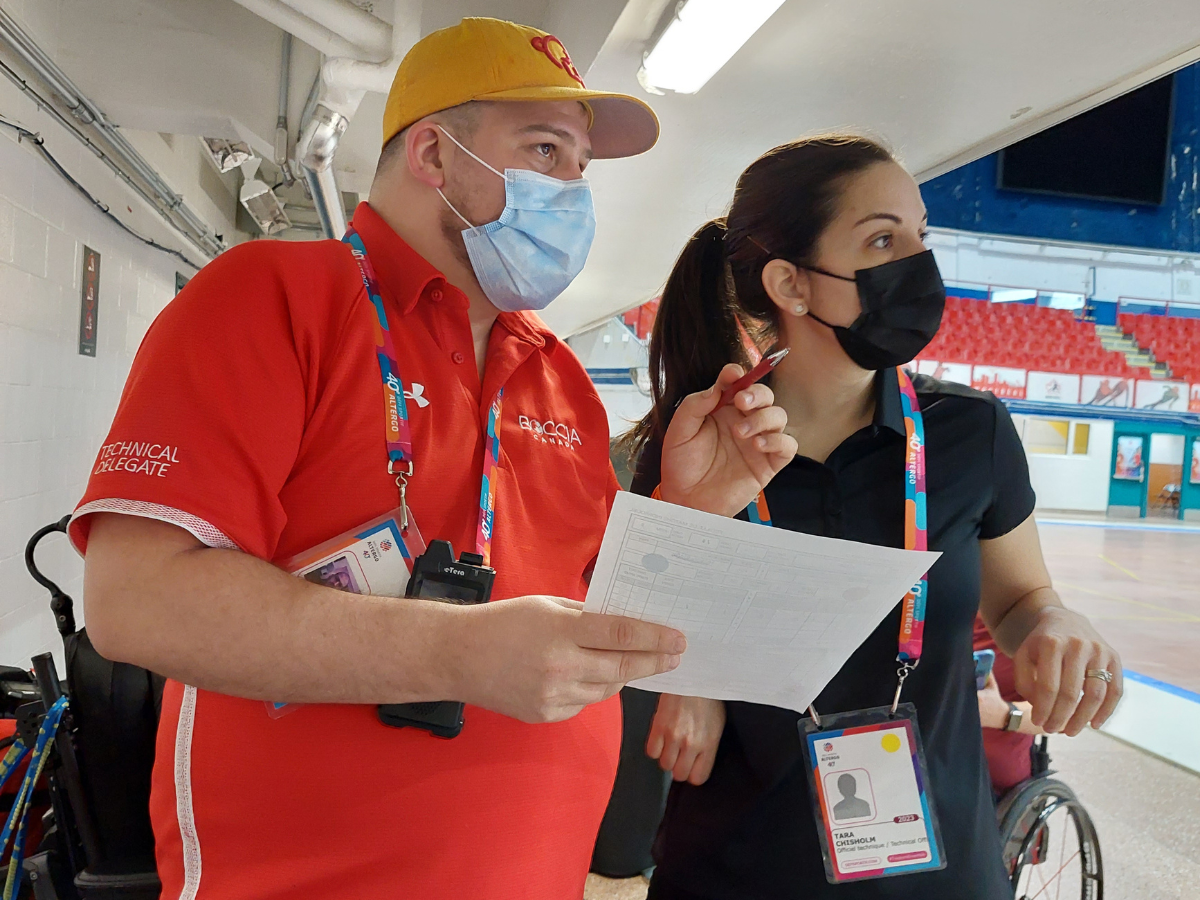 Technical Delegates abiding by Boccia Canada's Back to Boccia Training and Competition Guidelines for the 2023 Défi sportif AlterGo competition
Ottawa, ON (July 26, 2023) – Maintaining participant safety has been Boccia Canada's main priority throughout the pandemic.
The Back to Boccia Training and Competition Guidelines were released in July 2021. The guidelines were developed in consultation with a provincial task force that included athletes, coaches, officials, provincial partners and other stakeholders. They were informed by guidelines from Health Canada, Own the Podium and public health guidelines. Version 2 of the Back to Boccia Competition Guidelines was released in May 2022.
In spring 2023, Boccia Canada staff began another review of the guidelines with a smaller working group that included Safe Sport Coordinator Heather Bonas, Participation Development Committee Chair Eileen Bartlett, Executive director Peter Leyser and Head of Classification and public health nurse Lorette Dupuis. As this group was reviewing the existing guidelines and considering next steps, the situation changed.
On May 5, 2023, the World Health Organization declared an end to COVID-19 as a public health emergency, and on June 16, 2023 World Boccia announced that that all of their COVID protocols would be dropped.
After consultation with the Athletes Council, Participation Development Committee, Boccia Canada Council and conducting a survey of participants from the 2023 Defi Sportif, it was clear that there was broad support from boccia stakeholders to follow the lead of World Boccia.
Therefore, the Boccia Canada Back to Boccia Training and Competition Guidelines have been retired, with a few exceptions:
Single rooms will continue to be provided for officials who are not from the same household at national level competitions. This protocol was kept in place in recognition that masking and distancing are not feasible while sleeping in a standard hotel room.
Sides will continue to have separate warm-ups
Athletes will continue to back completely out of their boxes when it is not their turn
Boccia Canada would like to thank all who contributed to developing and revising the guidelines and to all participants for their combined efforts to maintain each other's safety over the last three years.
---
About the Canadian Cerebral Palsy Sports Association
We lead, develop and grow boccia from grassroots to producing World Champions, and we collaborate with partners to increase participation of Canadians with physical disabilities in sport.
---
Media Contact
Holly Janna
Communications Lead and National Team Coordinator, CCPSA
Email: hjanna@ccpsa.ca
Phone Number: 613-748-1430 x3 | Cell: 514-944-5193