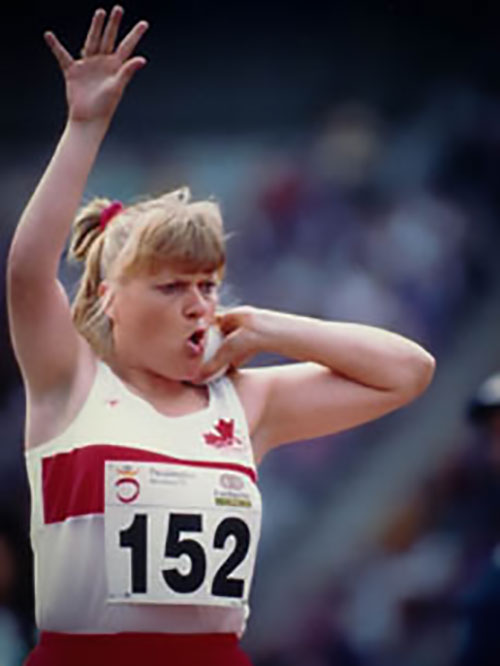 Joanne was one of Canada's finest Paralympic athletes during the 1980s and early 1990s. As a class 37 thrower, she was undefeated and still holds world records today in the shot put, discus and javelin for athletes with cerebral palsy.
While attending secondary school, Joanne ignored those who discouraged her from participating and became involved in physical education and sports in 1982. By 1984 she entered her first international event in New York. Over the next four years, Joanne continued to train and became a member of the Canadian Paralympic team. Competing at the 1988 Paralympic Summer Games in Seoul, Korea, Joanne won gold medals in her class for shot put, discus and javelin. She repeated that performance two years later at the 1990 World Championships in Assen, Holland.
The 1992 Paralympic Games in Barcelona and the International Paralympic Committee World Championships in Berlin (1994) were additional peaks in Joanne's performance. In Barcelona she set new records in the shot put and discus and won gold in the javelin as well. There is little doubt that at Barcelona she was one of the most recognizable Canadian athletes. After Barcelona, Joanne was the first female athlete with a disability ever to be nominated for the Canadian Sport Awards.
Controversy struck when Joanne's events were cancelled before the 1996 Paralympic Games in Atlanta. The only way she could compete was to make the standard for a completely different disability group. She did it – the only female athlete with cerebral palsy in the world who could have. Joanne retired after the 1996 Games as one of the world's most recognized athletes with a disability.
Joanne was inducted into the Canadian Paralympic Committee Hall of Fame and the Terry Fox Hall of Fame as an outstanding role model and inspiration, in 2003. She received the King Clancy Award from the Canadian Foundation for Physically Disabled Persons for contributing to the betterment of other people's lives. She was also presented with the Queen's Silver Jubilee Medal in 2002. Finally she was also recognized in her professional life with the Ontario Pharmacist of the Year Award in 1992.
Joanne now lives in Dunnville with her husband Scott and son Clayton.