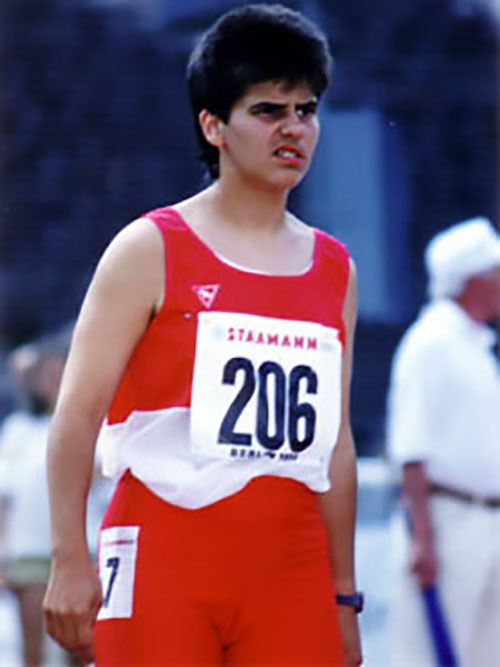 As an athlete, Sylvie Sauvé is known for far more than her excellent performances. Her involvement in the development of sports for people with cerebral palsy in Quebec, as well as her fight for the rights of people with a disability, lead CCPSA to recognize Sylvie as a person who has made her mark in Paralympic sports in Quebec in the 1980s and 90s.
Sylvie realized a dream when she participated in her first Paralympic Games in Seoul in 1988. In addition to returning with souvenirs in her luggage, she also packed a bronze medal that she won for the 100m. The Quebec athlete received extensive media coverage and became one of the big names in sports for people with disabilities. In 1992, she again participated in the Paralympic Games, this time in Barcelona, and finished 5th in the 100m despite an unhealed injury. Two years after the Barcelona games, she was forced to end her athletic career. Injuries were piling up and the pains that she had tolerated for so long were becoming ever more serious.
Throughout her career, Sylvie aimed to advance the cause of sports for people with cerebral palsy in Quebec. She was closely involved in taking the steps that allowed the Association québécoise de sports pour paralytiques cérébraux to come into being. She also occupied the position of chair of the board of the association for seven years. Given her long involvement as a volunteer, the recognition of people with disabilities, particularly in the world of sports, is an issue dear to her heart. She is now continuing her sport involvement as coach in the sport of boccia.
It is her need to prove to others and to herself that it is possible to attain a high level of excellence that permitted Sylvie Sauve to reach her dreams. During her 10-year career as an athlete, Sylvie gathered medals, joys, memories, and experiences that she never thought she'd have in her lifetime.