Three Deserving Athletes Named Recipients of the 2023 Kabush Para Athlete Fund
Published on: September 19, 2023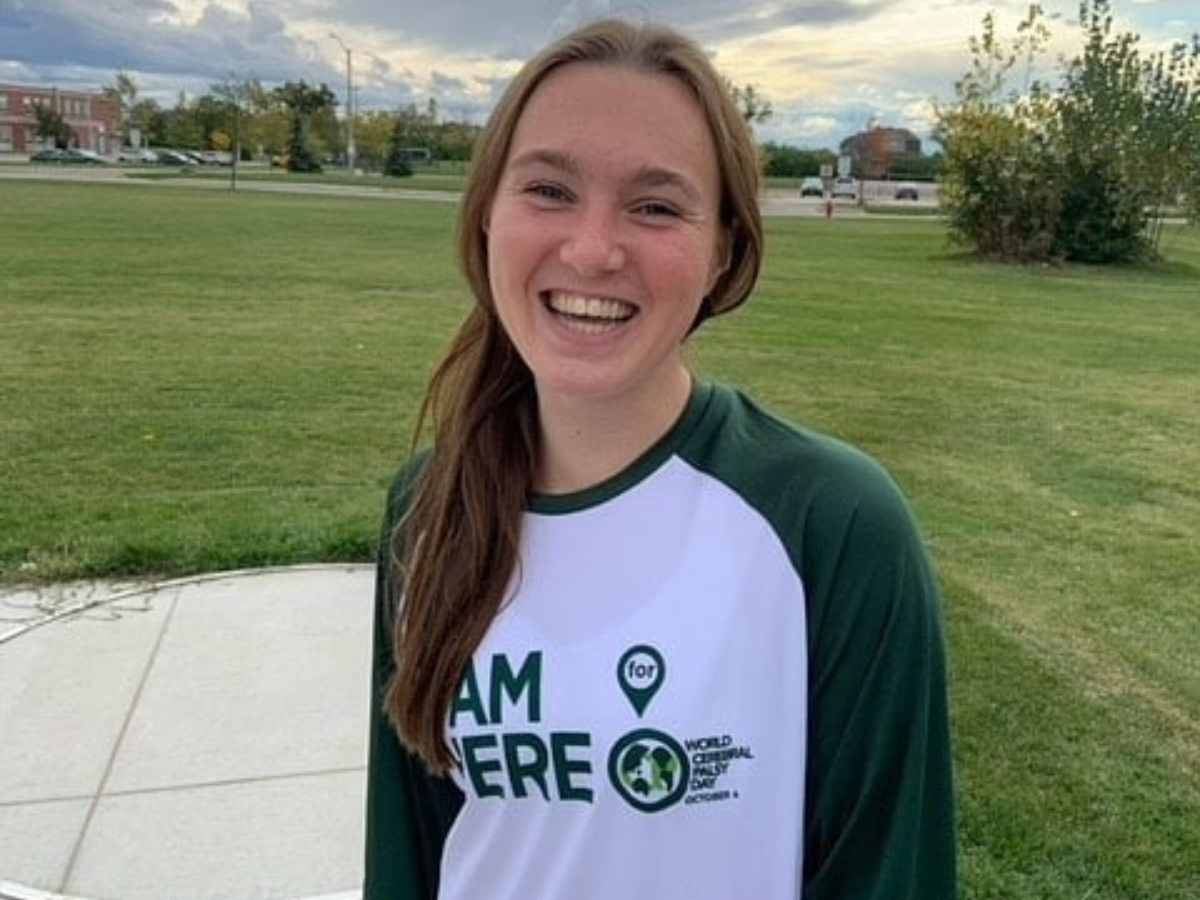 Laura Calovini celebrating World Cerebral Palsy Day on October 6, 2020
Ottawa, ON (September 19, 2023) – The Canadian Cerebral Palsy Sports Association (CCPSA) is pleased to announce the three recipients of the Kabush Para Athlete Fund for 2023, who will receive a bursary of $1,000 each, including boccia athlete Nathan Bragg (Vancouver, BC), para-athletics competitor Laura Calovini (Brampton, ON), and wheelchair basketball athlete Rylan Bileski (Winnipeg, MB).
A member of Boccia Canada's Espoir Team for up-and-coming players, Bragg reflected on what this means to him. "I'm grateful and honored to be a recipient of the Kabush Para Athlete Fund Bursary. This funding will help me offset the costs from attending boccia competitions and will support my athletic development as I continue to improve my boccia skills and attempt to compete in more events across the country. Thank you to the Kabush family for supporting up-and-coming para-athletes and helping to remove some of the barriers to para sport."
"Being chosen as one of this year's award recipients is an honour and quite exciting," explained Calovini. "I have been involved in para-athletics for almost seven years and love competing and challenging what my best can be every day whether that is at school, in the gym or at throws practice.   With so little funding in Canada for para-athletes, this award will definitely support my athletic goals of one day representing Canada on the world stage.  Thank you so much to the Kabush Family and the CCPSA".
Bileski agreed, "Well that is amazing news. I'm very happy to hear that I have been chosen.  Thank you so much as this will aid me in my future sport endeavours very much."
Executive Director of CCPSA, Peter Leyser was delighted with the interest generated for the Fund.  "This is the second year offering this opportunity to the para sport community and we received a sixty-four percent increase in the applications received over last year.  In total, there were twelve para sports represented in the applications.  Every application was deserving of the grant, and we wish them all well on their athletic journey. A special thank you to the Kabush family for their extremely generous gesture in establishing this fund and partnering with the CCPSA to deliver."
---
About the Kabush Para Athlete Fund
The bursary was established in 2022 by Ken and Debbie Kabush (Surrey, BC) in partnership with the Canadian Cerebral Palsy Sports Association and is intended to provide support to up-and-coming Canadian athletes or teams in para sport to offset costs related to registration fees, facility rentals, training, equipment, coaching, competition, and travel.
Ken and Debbie's daughter Alison was a stalwart in boccia for two decades. Alison began her involvement in 1989 through the Variety Child Development Center in Vancouver. She went on from there to be selected to the British Columbia Provincial Boccia Team, followed by the Canadian National Boccia Team, and participated in three Paralympic Games (Sydney 2000, Athens 2004, Beijing 2008), capturing two bronze medals in BC3 Pairs with teammates including Paul Gauthier.  Alison continues today to be a big advocate for para sport and boccia.
Find out more about the Kabush Para Athlete Fund here.
---
About the Canadian Cerebral Palsy Sports Association
We lead, develop and grow boccia from grassroots to producing World Champions, and we collaborate with partners to increase participation of Canadians with physical disabilities in sport.
---
Media Contact
Holly Janna
Communications Lead and National Team Coordinator, CCPSA
Email: [email protected]
Phone Number: 613-748-1430 x3 | Cell: 514-944-5193